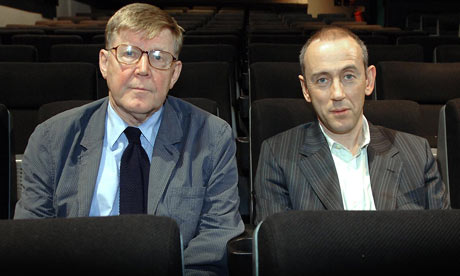 There is a profile of Alan Bennett in The Sunday Times titled
The National's Treasure
.
It's a double-ended pun as the feature's written by Nicholas Hytner, the director of the National Theatre, who's directed seven of Bennett's plays.
The two men discuss their working relationship in
Alan Bennett and The Habit of Art on More4
on Saturday.
Profiles of Alan Bennett seem dutybound to describe him as "a national treasure" these days - a cliche quite freely applied to other people.
"It's a funny bit of cookery,"
Peter York told The Guardian
last year. "You need durability, you need to be fairly mature [he thinks 50 and above is about right] and you need to have a basic craft or skill."
According to The Guardian, York thinks the real national treasures are fairly mid-market performers who have been around for so long you feel they must have hidden depths ("June Whitfield, for instance") and those, such as Judi Dench and David Attenborough, "who have always been at the top of their game and you're just glad they're there. 'Don't die yet!' That's what that's about."
The Observer today is asking readers; "
Help us find Britain's National Treasures
".
"What connects union firebrand Arthur Scargill, maverick musician Mark E Smith and comedy actress June Whitfield..."
I bet Alan Bennett wins that one, he's one of those gay men the nation seems to treasure.
Elton John gets called a national treasure a lot, often with the explainer that he's "the Queen Mum of Pop", which I think may mean we're all suposed to like him.
And much of the recent hooha about Stephen Fry was arguably because a "national treasure" like him isn't supposed to touch on tricky topics - a bit like the Queen talking about politics.
Which you could argue it was.
Alan Bennett has said he hates his national treasure status.
Which seems to be confirmed in the Sunday Times piece.
'He pleads with those who talk about him to the press to blow his cover,' writes Hytner. '"Tell them I'm a cunt, love."'