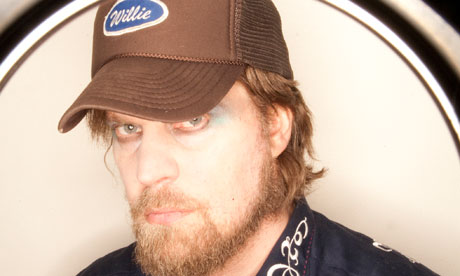 It was a low point — a syphilis diagnosis on the day that all the student doctors were in. "Twelve or thirteen of them!" beams John Grant. "Actually, I'd gone in to get treated for alcohol addiction but the nurse noticed this rash . . . " It was just another day in New York for the singer, who had sunk into obscurity after the breakup of his band, the Czars, in 2004 and was trying to kick alcohol, cocaine and crack all at once, while waiting tables and sleeping on people's floors.
The nurse was quite taken with her gentle, soft-spoken patient and offered to become his sponsor for Alcoholics Anonymous. In the absence of drugs and drink, Grant ramped up his addiction to unprotected gay sex. "I loved it. It was a great way to play Russian roulette," he admits now. "I really dodged a bullet there."
John Grant
in The Times
.
Fagburn isn't sure what he makes of John Grant - I quite like his album, but Grant keeps coming up with "Oh pity me please, I have been to gay hell and back" Rufus Wainwright/Judy Garland crap like this.
So you've taken drugs and had bumsex.
Big fucking deal!
I've pasted the interview in the comments section - take that Rupert Murdoch and your stupid paywall!