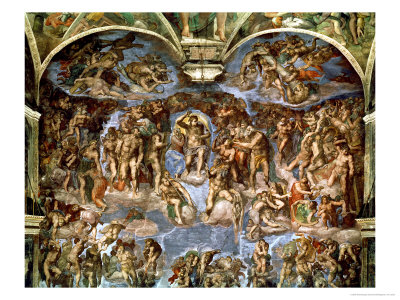 'Michelangelo's Last Judgment 'inspired by seedy brothel scenes
'' reports The Guardian.
What???
"New study claims artist drew inspiration for Sistine chapel fresco from visits to public baths where male and female prostitutes plied their trade."
"The figures descending to hell and ascending to heaven are inspired by the virile, muscular manual workers and porters Michelangelo would have seen during his visits to the baths, which are well documented," said Elena Lazzarini, a researcher at the University of Pisa and the author of the study. "It was here he defined the build of the working man as the ideal physique."
Really? I feel slightly queasy.
Michelangelo's Last Judgment figures 'based on male prostitutes'
embellishes The Telegraph.
This gets worse. Male whores!?
"Elena Lazzarini, a researcher from Pisa University, believes the enormous fresco is replete with homosexual imagery, including a man being dragged into Damnation by his testicles and kisses and embraces between male figures.
"She has explored the theory in a new book, claiming that Michelangelo drew much of his knowledge of male anatomy from his frequent visits to gay brothels and 'Turkish baths' in 16th century Italy."
I would have called them
Roman
baths, but anyway - at least no-one's called them anything daft like "gay saunas".
'Michelangelo's 'The Last Judgement' was 'inspired by visiting gay saunas'
' The Daily Mail.
"'There is documentary evidence that Michelangelo visited these places and it's very likely he drew inspiration for the male form from these saunas which he used in the Last Judgement.'"
So you're just saying it's possible, then?
Michelangelo went to the public baths, as people did then.
And there were naked men there and there are naked men in The Last Judgment.
Erm, wouldn't it have been easier for Michelangelo to use artist's models?
Just a thought.
Art criticism - it's not rock science.
EDIT: A more interesting proposition would be that some of the men or groups of men in The Last Judgment could have been based on scenes from a gay sauna or gay life, as it were - Michelangelo's little but extremely subversive joke.
Have a look at the painting in detail
here
.