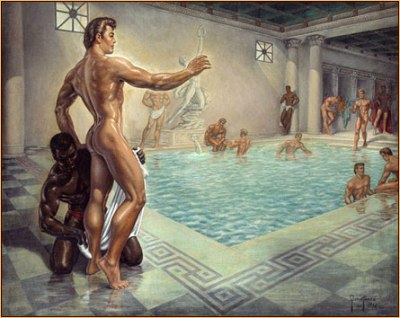 "The collapse of the Roman Empire and the arrival of the Barbarians was due to the spread of homosexuality.
"The Roman colony of Carthage was a paradise for homosexuals and they infected many others. The invasion of the Barbarians was seen as punishment for this moral transgression.
"It is well known effeminate men and homosexuals have no place in the kingdom of God.
"Homosexuality was not rife among the Barbarians and this shows God's justice comes throughout history."
Professor Roberto De Mattei.
This tired old nonsense made it into several British papers today, including
The Daily Mail
.
Fuck knows what Mr De Mattei is a professor of, but I doubt it's ancient history.
As any fule kno, Rome thrived when it was at its gayest.
Rome fell after they'd turned their backs on the bumming and converted to Christianity.
• Illustration The Baths of Ancient Rome - the mighty
George Quaintance
.
Update:
Was Rome Felled By Gays Or Christianity?
by Michael Hamar.