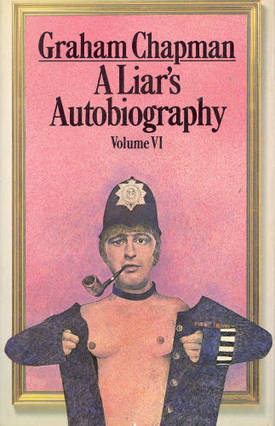 "Graham Chapman was often perceived as the straightest member of the Monty Python team. On the outside at least everything appeared stoutly conventional: he smoked a pipe, loved Gilbert and Sullivan and qualified as a doctor. In fact, as his fellow comedy scriptwriter Jonathan Lynn put it, he was the only true anarchist among them..."
Just noticed that the Telegraph website is running this rather touching
2005 profile of Graham Chapman
by John Preston - to mark the reunion of the living Monty Python team (bar Eric Idle*) to provide voices in
an animated 3D film based on Mr Chapman's racy memoirs
, A Liar's Autobiography: Volume VI.
Graham was a major league chap who - among many other good gay deeds - helped bankroll Gay News.
* Who once quipped; "We would only do a [Monty Python] reunion if Chapman came back from the dead. So we're negotiating with his agent."
(I have a feeling 'The Life Of Graham' is a hopelessly unoriginal title, and would like to apologise unreservedly...)