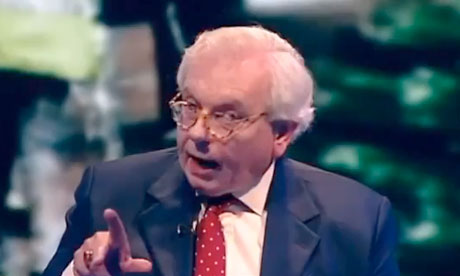 The Daily Express has leapt to the defence of David "Enoch" Starkey today;
'Dark Past Of The Rudest Man on TV'
Were you disgusted by
his vile racist outburst on Newsnight
on Friday night?
The Express's Anna Pukas wasn't - she thought it "was Dr David Starkey, aka Dr Rude, doing what he does best: giving voice to what the rest of us keep hidden in our thoughts."
Oh dear. Speak for yourself, dear.
"This was Starkey at his most provocative."
And most racist - you forgot to say racist.
The BBC has received
more than 700 complaints
about Dr Racist's comments.
But bravely the Express sought to understand where his "anger" comes from.
His difficult relationship with "his domineering mother", apparently.
Why thank you, Dr Freud.
It's a wonderful and enlightening piece all round - and it would be churlish to say that Anna Pukas's idea of "research" appears to have involved little more than reading
David Starkey's Wikipedia page
.
Well done to the both of you.
Well done!
•
'It was like Enoch Powell meets Alan Partridge'
Owen Jones in the New Statesman.