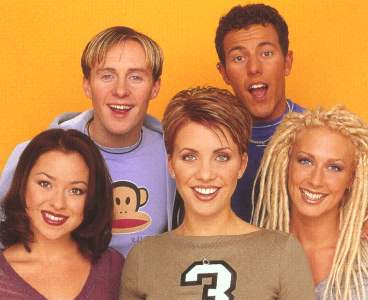 It's an exciting day for showbiz news over at The Sun.
Hard to know which story I find more rivetting!
This?
STEPS have revealed one of the reasons for their bitter split ten years ago — BRITNEY SPEARS.
The band's Ian "H" Watkins hit it off with the singer when they supported her Baby One More Time tour in the US during 1999.
He began flying to venues in the star's private jet while his bandmates slummed it on a bus.
In a new Sky Living series that starts tonight, Lisa Scott-Lee brands gay H "diva-ish".
She said: "It got people's backs up."
And things got worse when Claire Richards revealed H had been secretly dating the band's manager Tim Byrne.
Or this?

"THE Pineapple Dance Studios TV phenomenon is officially over after Louie Spence admitted: "My last show was so bad — even my mum had to turn over."
The camp dancer blasted producers for ruining his Sky One show by making its follow-up — Louie Spence's Showbusiness — "too clever".
Louie told TV Biz: "Pineapple and Sky couldn't get it together for another series so they called the show after me as I was the link with the first series.
"But you know what — it was c**p. And I told them that.
"My family watched it — and they are what I call everyday people — and my mum rang me and said, 'Oh I'm sorry Louie, I had to turn over. We didn't understand it'."
It's all too much.
I think I need a lie-down...