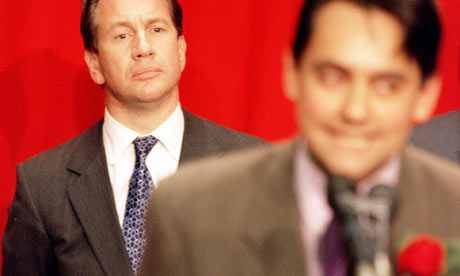 'The defeat of Michael Portillo by the openly gay Labour candidate Stephen Twigg in the seat of Enfield Southgate was one of the most memorable moments of the 1997 general election.
'It was seen by many in the gay rights lobby as a seminal victory against the 'nasty' Tory party.
'Now the local Conservative association is riven by another battle over gay rights. David Burrowes, who beat Twigg for the seat in 2005, is the ringleader of a revolt by Tory MPs against David Cameron's commitment to support gay marriage.
'Burrowes is a father of six and head of the Conservative Christian Fellowship. 'I do not see the need for legislation to recognise gay marriage,' he says. 'I will vote against it. But it does not at all follow that I am anti-gay and homophobic.' Such reasoning cuts no ice with Phillip Dawson, treasurer at his Conservative association: 'It is one thing for our MP to abstain on this sort of issue,' he says. 'To declare he will not only vote against it, but lead a revolt of up to 100 MPs is unacceptable.'
'Dawson, who is gay, has
launched a Facebook and Twitter campaign against Burrowes
. Ironically, he has the backing of Stephen Twigg, who is now an MP in Liverpool.
'Dawson needs only 50 signatures from members to trigger an emergency meeting to discuss Burrowes's position as MP. 'It is an option. No one should think an incumbent is there for good,' he says.
'However, Dawson may find he is the one accused of intolerance. Cameron is almost certain to give MPs a free vote on gay marriage.'

The Daily Mail
.
Blimey.
That's your actual gay Uncle Tom Andrew Pierce there, writing about The Gays and it's not completely offensive.
Did you catch the dig against the deffo not-gay Michael Portillo in the first line?
Now, if only I thought gay marriage was as important as gay Tories do.
Update: Phillip Dawson has replied below.