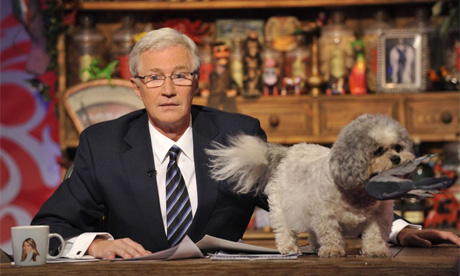 'I felt I was part of the PR machine. There was so much interference. They'd want this guest or that guest. Every question had to go through the lawyers. I was just another plug for someone's book or film.
'And I can tell you I saw some dross and read some rubbish, but I was too polite to say, "This is shameful. How you've got the nerve to publish this is beyond me." So I'd say, "Oh, I really enjoyed your book," but I was thinking, "I can't do this any more."
'Guests would be on the couch coked off their minds. They'd start conversations, forget what they were saying, go onto something else.
'When I was doing my daytime show (The Paul O'Grady Show) I'd feel like self-mutilating under the desk thinking, "They're going to swear. It's 5pm. There are kids watching."
'As soon as the ad break came I'd fly off and say, "They're off their face on coke. I can't handle this. It's live telly."'
'I'd be sitting there and, if they were in a soap, they'd be talking about the long hours they worked or their Jimmy Choos. I wasn't interested in b***** shoes.
'It would flash across my mind, "You're sitting here talking about shoes and there's a man dying in my bed."'
Paul O'Grady in
the Daily Mail
.
I miss the good old days when all the TV chat show hosts were gayers.
The man dying was Brendan Murphy, Paul's lover of 25 years, and his manager.
Although you weren't allowed to say it at the time.