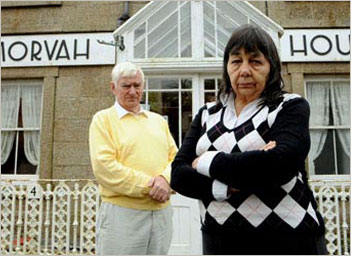 'A couple who refused to let a gay couple share a bedroom at their seaside guest house have won permission to take their case to the Supreme Court.
Court of Appeal judges earlier this year dismissed a challenge brought by the couple who run a guest house in Cornwall, against a ruling that they breached equality legislation when they turned away a gay couple.
The appeal court had upheld the January 2011 verdict of Judge Andrew Rutherford at Bristol County Court that Peter and Hazelmary Bull, who run Chymorvah House in Marazion, Cornwall, had directly discriminated against the couple, who were awarded a total of £3,600 damages.
The Supreme Court, the highest court in the land, has now decided to hear the Bull's case...'
The Daily Mail
- who must have exploded with excitement over this.
What. A. Waste. Of. Time. And. Money.
PS Want to stay at the Bull's hotel? Just give them a call on 01736 710497.