Hope, then, is the defiance of love, defiance against what can feel like a bleak reality. It is built on the promise that love is stronger than death. And because of this, there is nothing of which we need to be afraid. Not fundamentally.
This is the good news of Easter – which is why it's so ridiculous that former Archbishop of Canterbury George Carey has used his own Easter message to continue his peculiar obsession with gay sex.
It is hardly earth-shattering good news if we reduce the Resurrection of Jesus Christ to some narrow moralism that seeks to police how people love each other.
In his attack on David Cameron, Lord Carey accused the Prime Minister of doing more than any recent political leader to feed the anxieties of those Christians who feel part of 'a persecuted minority'.
To speak of Christians being persecuted in this country is an insult to those people in places such as Iran and Pakistan who really are...
Rev Giles Fraser, the former Canon Chancellor of St Paul's Cathedral,
writing in the Mail On Sunday.
A decent fellow, and a reminder that all Christian leaders aren't antediluvian mean-spirited unchristian bigots.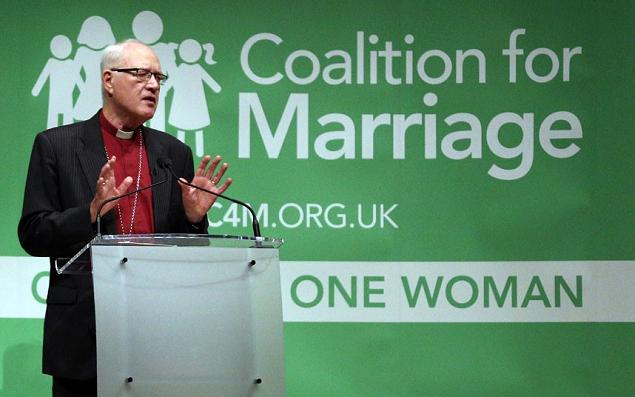 MORE than two-thirds of the public think the Church of England is out of touch with society and more than half believe it does a bad job of providing moral leadership, according to a new poll.
The YouGov survey, commissioned by The Sunday Times for Easter, also finds that four out of 10 people think priests — both Anglican and Roman Catholic — cannot be trusted to tell the truth.
The findings give an indication of the size of the challenge facing Justin Welby, who will deliver his first Easter message as Archbishop of Canterbury today.
Only 19% of respondents said they could name Welby, the leader of the world's 80m Anglicans...
The church has been at the centre of several recent controversies, including a refusal to ordain women bishops and a rejection of same-sex marriage, a policy championed by David Cameron.
The YouGov poll shows that 49% of the public say the church is wrong to oppose such unions. Some 37% of people agree with its position on the issue. More than three-quarters (78%) think the church should allow women bishops...
The Sunday Times.
Oh well, it was
nasty
nice while it lasted...