Isn't this delightful?
First copy of Radio Times I've bought since
this one
, curiously.
There's a big interview with Grayson inside and everything-
here's some excerpts
if you're too foolish to invest £1.60 in one of your actual works of modern art.
His first Reith lecture,
Democracy Has Bad Taste
, is broadcast on Tuesday 15th October at 9am.
Yes, 9 o'clock
in the morning!
Only Radio 4 could schedule their prize series of the year at such a ridiculous hour.
Don't forget to listen carefully for Fagburn's endearing laugh and clapping.
Loads more stuff on the
Playing To The Gallery
site.
Did I tell you I met him after?
Or Claire, maybe.
Anyway, I think we bonded...
• Grayson Perry:
A master of rabble-rousing and little else: The critic of today's art is ironically its biggest benefactor: Perry has taken a fifth-rate talent and made himself an old master
Ooh! Get Jonathan Jones trying to be all controversial on The Guardian Art Blog!
"This is my moment..."
There have been brief Beginner's Guide To... profiles of Grayson in most of the broadsheets this week.
No other interviews, most have just pulled quotes from Radio Times, usually headlining him being a bit rude about Damian Hirst. Here's a quite good one by
Boyd Tonkin from Saturday's Independent.
FT Weekend has an edited version of the first of his Reith lectures
...
Proust said something to the effect that we only see beauty when we're looking through an ornate gold frame, because beauty is very much about familiarity and it's reinforcing an idea we have already. It's like when we go on holiday, all we really want to do is take the photograph that we've seen in the brochure. Because our idea of beauty is constructed, by family, friends, education, nationality, race, religion, politics, all these things. When somebody chooses curtains, I'm sure they just think, "Oh I like those curtains, they're nice," but when you are thinking "What art do I like?" it's a nightmare!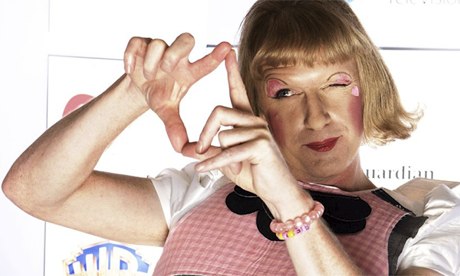 Q&A in The Observer
...
"I'm always open to any kind of establishment position because I think it's an opportunity for some sort of mischief."
Fagburn would now like a book of Grayson Perry interviews, please.