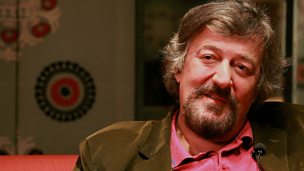 There are people who are so rabidly homophobic, and I just find that fascinating - it's as if you met someone who has absolutely spent all their life trying to get rid of red telephones. You'd go 'What?' You wouldn't understand it. Why would you so bother to attack a group of people who really do them no harm.
This is a series about gay people and the trouble people have accepting them...
While Elton and David have done much to encourage a change in attitudes to gay people here, I'm keen to know more about what it means to be gay elsewhere in the world...
Okay.
I have to admit I thought I'd hate this and would end up screaming at the wind about how England's leading poshgay "national treasure" was saying how it had all gone wrong since we lost the colonies, but no.
This was pretty good, actually.
It wasn't aimed at cynical old pooves like me, anyway, but more at members of the so-called heterosexual community in middle England - it was
TV Pick Of The Day in the Express
- and it did that well.
It was a nice BBC2 programme, for Chomsky's sake, you can't expect
Democracy Now!
Although bookended with Fry talking to gay celebrity zillionaires married with kids etc in Windsor and Hollywood - who are clearly livin' the Western dream LGBT Africans must aspire to, as indeed must we all - it did stress our Christian colonial legacy when talking about Uganda
("We brought you a bible...").
Further;
"Perversely the philosophy that underpins this twisted idea comes from the land that gave birth to gay liberation."
America riddled with homophobia shock!
Let's get an e-petition going and boycott Disneyland.
Even when talking about Iran, Stephen Fry at least implied he agreed it was a propaganda fiction that men are hanged "just for being gay".
If you get killed "just for being gay" in Iran they're not doing a very good job of it.
Remember when the media was filled with horror stories about anti-gay atrocities in Iran?
Most were made-up, but now forgotten, as Russia has become our big "illiberal" bogeyman again.
Funny that.
He often came across as a patronising public school housemaster scoffing at peoples' "silliness".
And, perversely, it was Fry who seemed to be the person who seemed most obsessed with anal sex.
He kept bringing it up - stressing he'd never done it - and saying being gay is all about
love.
But gay men around the world tend to get arrested for sodomy, not sending valentine's cards.
Spoiler alert! The coming out of the "ex-gay" as an ex-ex gay was a stroke of televisual genius.
Fagburn also liked Stephen Fry reading out the Ugandan newspaper headline; 'How Bum-Shafting Shattered My Whopper'.
Wouldn't it be scary if people in a country that isn't "backwards" or "uncivilised" (© Stephen Fry) like ours believed every silly thing they read about The Gays in the papers... bad or good.
Available on BBC iPlayer
- who warn 'Contains upsetting scenes', and put it under a parental guidance lock!
Hold me now while I weep for the world...
Some famous rich gay men, pictured recently, with babies option
For its faults, Hollywood is a pretty accurate reflection of the way most of the world is looking... and the fact that they can have actors who are openly gay, openly camply gay, is not something you should thank and congratulate Hollywood for, you thank and congratulate the culture that Hollywood recognises, accepts things like that.
Hollywood is the thermometer that is thrust up the anus of the world's sensibility.
Things do move forward.
It's three steps forwards, two steps back, but in the end it is always progress, people learn.