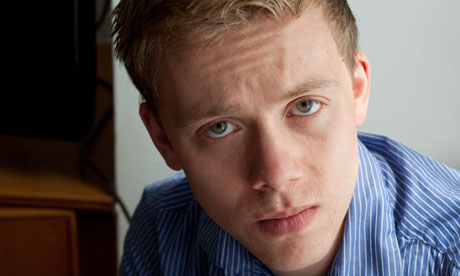 Selfie! So sincere it hurts...
Eee, I'm from up North, me.
And I'm not just putting it on.
By 'eck.
Let's have a cheeky brew!
That's what they say, isn't it?
Some say I'm like a crap drag act with my hilair faux Northerness.
But I say, 'Do one!'
Cause I can also do working class drag.
I remember the Miner's Strike, like t'yesterday, even though I was born in August 1984, which was halfway through.
Still, lots to talk about at a dinner party.
It was at one of those dinner parties I realised my posh friends didn't like poor people much.
Wrote a book about it.
Don't know much about the gays either.
Wrote an article about that, too,
ironically demonising them as an 'other'.
Eee, them gays is their own worst enemies.
My head has fairly swollen of late.
I blame the fame.
Follow me on that Twitter, if you're not one of the three people I haven't blocked for daring to criticise me.
Ecky thump!
Black pudding.
Quick selfie with me and a dying Tony Benn.
Eh up missus, he was made of coal, made of coal.
Don't you all be commenting on my boyish good looks, even though no-one but me is obsessed with them.
Bloomin' eccles cakes!
PS Fagburn went to a talk by Owen, before she was famous and just after the publication of Chavs, asked him to define 'the working class'm as the book seemed more concerned with what some snoots call the underclass.
'Err...'