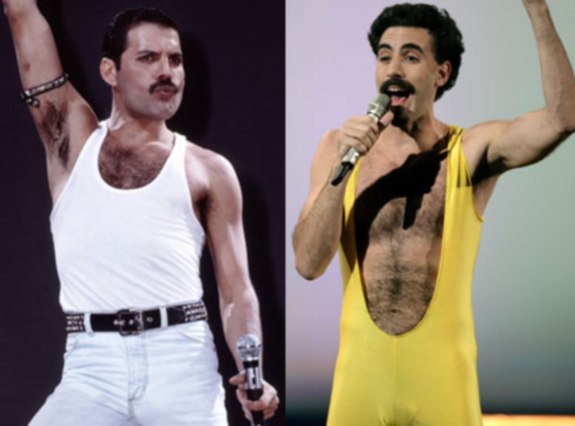 Freddie Mercury will not live again through the magic of Sacha Baron Cohen's acting.
On Thursday, long-time Queen manager Jim Beach seemed to confirm that the Borat star would play the lead role in a biopic about the singer's life.
But a later clarification from Queen's guitarist explained that Jim's comments at London's Artist & Management Awards were just a joke.
'You have probably followed the saga of the famous Queen-Freddie Mercury biopic which has been developing in Hollywood for the last seven years,' the manager told the audience as he collected the Peter Grant award for managing excellence.
'An important breakthrough is that we have now managed to persuade Sacha Baron Cohen to write, produce and direct this movie, and he has also agreed to star.'
While the news was quickly disseminated by news outlets, Jim's comments were not meant to be taken seriously.
In his blog, guitarist Brian May mentioned Jim's 'small joke' from the event.
'He said that, in response to enquiries about the progress on the Freddie feature film, that Sacha Baron Cohen had been re-engaged to write, produce, and direct the film, as well as starring in all four major roles!'
'I'm afraid some folks might have taken it seriously!'
Mail Online March 30th 2015
- though they were far from alone.
PS
The Hidden Meaning Behind Queen's Bicycle Race
- Cracked.