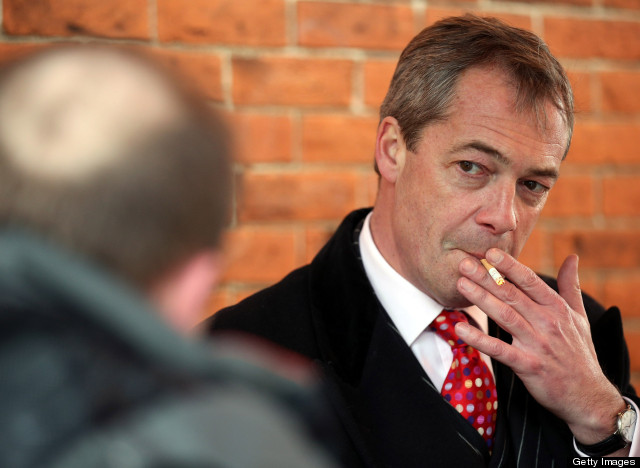 Naughty Nigel enjoying a nice fag.
Nigel Farage was last night accused of homophobia after footage emerged of him making a joke about 'fags' in a best man speech.

The Ukip leader's final hours of election campaigning were overshadowed by the release of the video of his brother's wedding.

The singer Rod Stewart, who was a guest at the July 2001 wedding, appeared visibly uncomfortable after Mr Farage used the word 'fags' as part of a joke about the death of a man at Michael Barrymore's house, which happened months earlier.

Mr Farage yesterday pulled out of a planned visit to a bingo hall shortly after he was contacted by the Mail about the film.

He claimed that he had intended 'no malice' with the joke, but did not apologise...

Mr Farage, who appears much younger in the video with a full head of black hair, says that he would like to start the speech with some 'housekeeping'.

He said: 'As far as smokers here are concerned there's good news and bad news for you. The bad news was we were not allowed to smoke until the coffee was served.

'But the good news for us who are smokers is that we are far better off here than if we had been at Michael Barrymore's house.

'Because there they removed all the ashtrays on the basis that now they chuck all the fags in the pool.'
Now this is funny.
Not Nigel Farage's joke about the death of a gay man, obvs.
How long have the Mail been sitting on this video?
And was it released now as a final pre-election bombshell?
And did they think this would turn their readers off Farage, rather than warm to him even more?