Chemsex, a documentary by William Fairman and Max Gogarty, examines the burgeoning popularity of chemically-enhanced sexual encounters among young gay men. Following self-confessed 'slammers' and the health workers who are trying to encourage safe sex, Chemsex examines how addictive pleasures can feed self-destruction and despair. Chemsex, which played at the London film festival last month, will be released in the UK on Friday 4 December
Guardian online
- present a 'clip from documentary about the fight to save lives ruined by drug and sex dependence' [sic].
*******
[Scary music] We see David Stuart, the Mother Teresa Of Dean Street, walking round his palatial gay men's drugs clinic talking about '
hordes
of gay men self-medicating their way through complicated sexual identity and experience [sic] with really harmful drugs.'
'Average number of sexual partners?
Sometimes as many as
...'
Have to stop him there, as you can't estimate an average by saying 'sometimes as many as'.
Cut to Simon, he's just got back home after having chemsex; 'Had a good time', says the poor wretched and dejected soul.
He tells us his tragic life story; 'school and family were pretty much fine, I had no complaints and was pretty fortunate with that. I'd never experienced misery, depresson, anxiety; I don't know whyfore I do this to myself...'
He says he also had some GHB earlier; 'So it was good.'
Which might answer his own question.
Fin.
Why won't he admit to his 'self-destruction and despair'!!??
False memory syndrome!!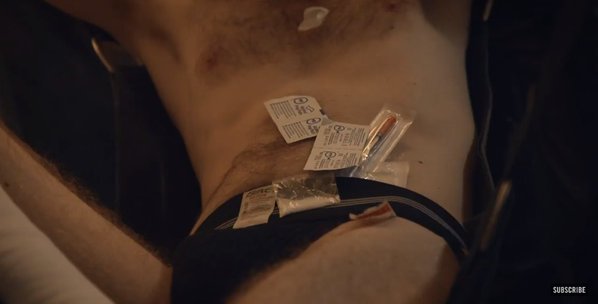 PS The Guardian should perhaps have mentioned that Chemsex director, Max Gogarty, is this guy;
Hate mail hell of a gap-year blogger: Cyber-bullies who attacked young author are accused of class hatred.
When Max Gogarty, a 19-year-old gap-year student, landed a coveted blogging spot on which to chronicle his two-month backpacking adventure around India and Thailand, he could have never predicted how his moment of triumph would backfire so spectacularly.

But within 24 hours of his first posting on the guardian.co.uk travel pages, the teenager was swamped by a tidal wave of internet hate mail as he became a victim of the phenomenon of 'going viral'. As the north London teenager was touching down in Mumbai, hundreds of comments - many vitriolic - were appearing not only on his blog, but on scores of message boards and social networking forums, including Facebook and high-profile gossip sites such as Holy Moly.

The astonishing reaction was provoked when surfers spotted that he had the same surname as Paul Gogarty, a travel writer who occasionally contributes to the Guardian. Readers presumed he was a privileged public school boy whose father had secured him the blog spot and whose gap-year travels were being funded by the newspaper...
Poor thing.
NB Chemsex is a Vice film. Their last gay-themed documentary was Searching For Spitman;
'Why are young men on London's council estates performing deviant acts on a person they call "Spitman"? This is a journey through the depths of West London. A story of what some of the young men on these estates will do for money...'
So, obviously they're not interested in sensationalism about some 'seedy' hidden world.
PS The directors of Chemsex, Gogarty and William Fairman, are both straight. Perhaps making this documentary was like a cinematic gap year for young Max, rich boy's tourism, and a venture into a wild, exotic
other
?