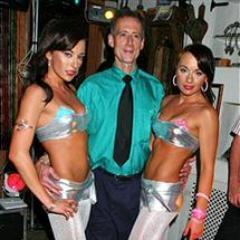 Happy birthday Peter!
Here's to many more years of standing outside foreign embassies holding up crappy placards, serving imperialism, patronising LGBT people in the developing world, transphobia, Islamophobia, left-bashing, hijacking meetings and movements, fictionalising your own biography, perpetually presenting 'alternative facts', harassing young women and anyone who dares to criticise you, and sending out press releases about your fantastic self.
Mr Vain even sent out
a press release telling the media it's his birthday
today.
Here's
the self-congratulatory, self-mythologising press release
.
Unbelievable.
PS Here he is, acting like a right-wing stooge as per,
interrupting a speech by Jeremy Corbyn
last month.
And here's another
hilarious 'Peter Tatchell's postcard from fantasy island' piece from Pink News
; 'I first met George in about 1980, when he was still a teenager and long before he was famous. It was a chance meeting in a small gay disco above a pub by Manor House tube station in north London.'
Of course you did, Pete, and were Freddie Mercury and Princess Diana there too? And
your good friend Whitney Houston
?
Can't believe anyone falls for this baloney.
You're 65 now, Peter - pick up your bus pass and go.